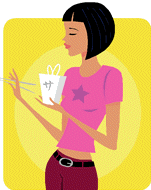 Chinese and Western astrology have traditionally taken different paths, but, as she explains in her book entitled 'The New Astrology Report', these different cultural divinations can be fused together to create a new and intriguing form of astrology. The New Astrology report is a personalized report based on this new astrology, using 144 new signs that combine the methods and star signs of Chinese and Western astrology.
Average report length: approx. 9 pages
Report author: Suzanne White
Report price: $12.99 USD
Preview a Sample Report
Report Unavailable This report is currently unavailable.